Marked by the Golden Gate Bridge, a plethora of California wineries, and the famed Silicon Valley, the San Francisco Bay Area is truly iconic. Sparkling waters are the backdrop for a never-ending list of date night opportunities. As Valentine's Day approaches, consider your date night plans and make those important reservations in advance. Plenty of fantastic Bay Area restaurants are serving some of the best food and drinks in the state, and there are myriad ways to celebrate the most romantic holiday!
If you're lost on where to take your special someone, here are a few date night recommendations.
1. A Coastal Evening on Half Moon Bay
Head towards picturesque Miramar Beach and Half Moon Bay for the evening. Devoting your night to dinner and drinks is a classic date night choice, and should you decide to include the sunset on the Pacific Ocean, you've got the recipe for an unforgettable evening. On Capistrano Road, you'll find the seafood eatery Barbara's Fishtrap. Whether you choose to sit inside or overlook the beach behind the restaurant, you can look forward to a relaxing and delicious dinner. Known for its incredibly fresh seafood, Barbara's Fishtrap has been delighting diners since 1971. Try the coastside calamari or the scallops tempura, a delectable meal for a notable evening!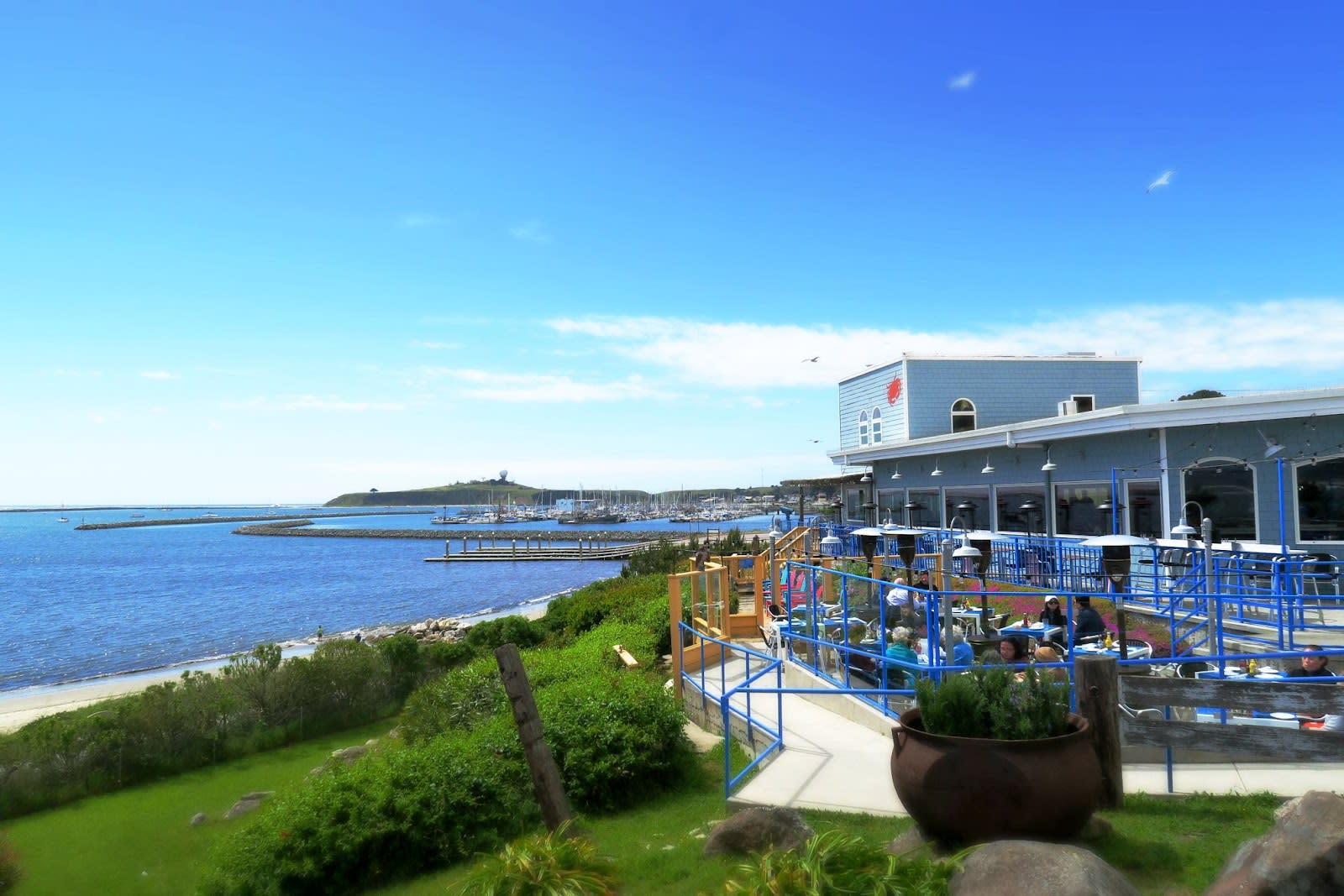 Credit: Sam's Chowder House
Head on over to Half Moon Bay favorite Sam's Chowder House for another delightful dinner on the water. The award-winning waterfront restaurant features a comfortable heated patio as well as a cozy dining room. Start off your meal with spicy popcorn shrimp, dayboat scallops, or baked oysters Rockefeller before moving on to an appetizing entree. For a unique dining experience, you can share, order the organic soft serve topped with sea salt and olive oil – you won't regret it!
2. See San Francisco From Every Angle
There are so many sights to see in San Francisco, but perhaps none as familiar as that of the Golden Gate Bridge. Connecting the city with Marin County, the bridge is a photogenic feat of engineering. Marvel at the bridge, the busy Fisherman's Wharf, and the notorious Alcatraz Island from your seat as you eat dinner at The Crab House at Pier 39. Serving up more than landscapes, this seafood restaurant is world-famous for its "Killer Crab®." An entire Dungeness crab is roasted in a secret garlic sauce, then presented to you on a sizzling cast iron skillet. If you're craving a different type of fish, order the pan-seared salmon with tarragon butter for a healthy gourmet meal.
Next, enjoy some pleasant conversation as you stroll through Fisherman's Wharf. It's about a fifteen-minute walk from the restaurant towards San Francisco's famed Ghirardelli Square. Originally a chocolate factory established by Domenico Ghirardelli, the square sits nestled inside. There is an array of activities to partake in here, but we recommend heading over to the Ghirardelli Ice Cream and Chocolate Shop. They're best known for their sundaes with handmade hot fudge from Ghirardelli chocolate.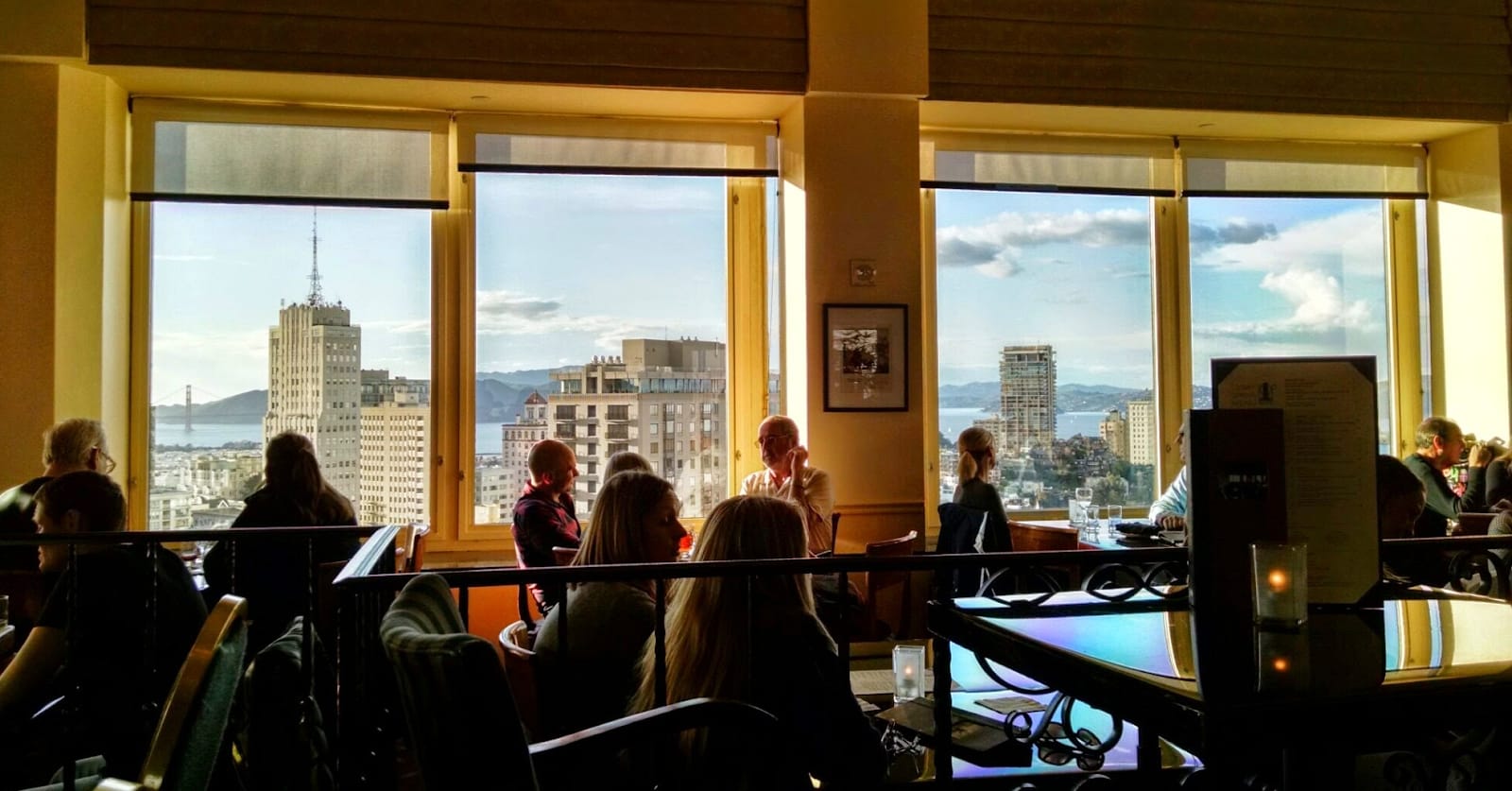 From the square, make your way towards the Intercontinental Mark Hopkins, one of San Francisco's most high-end hotels – specifically, the luxury cocktail bar on the 19th floor called Top of the Mark. For 80 years, the bar has dazzled its guests with sweeping 360-degree views of the glittering city and the water beyond. Lounge for the rest of your evening with some of the cities' finest cocktails. If you'd prefer a bottle of champagne as a nightcap, the Top of the Mark carries Dom Perignon.
3. Turn Up the Heat with Dinner and a Movie
Another popular Bay Area spot to enjoy this Valentine's Day? San Jose, of course! Begin your evening with a decadent barbecue meal at Santana Row's Sauced BBQ and Spirits. Owners Brendan and Barrett have curated a dinner menu filled with mouthwatering entrees like the twice-smoked brisket burnt ends, the 100% Angus beef sliced brisket, or the Carolina pulled pork served with a vinegar-based mop sauce. Sauced BBQ also offers four signature barbecue sauces: Tin Roof, Hot Tin Roof, Georgia Gold, and Pig Candy. Get a side of waffle fries to split and dinner is served!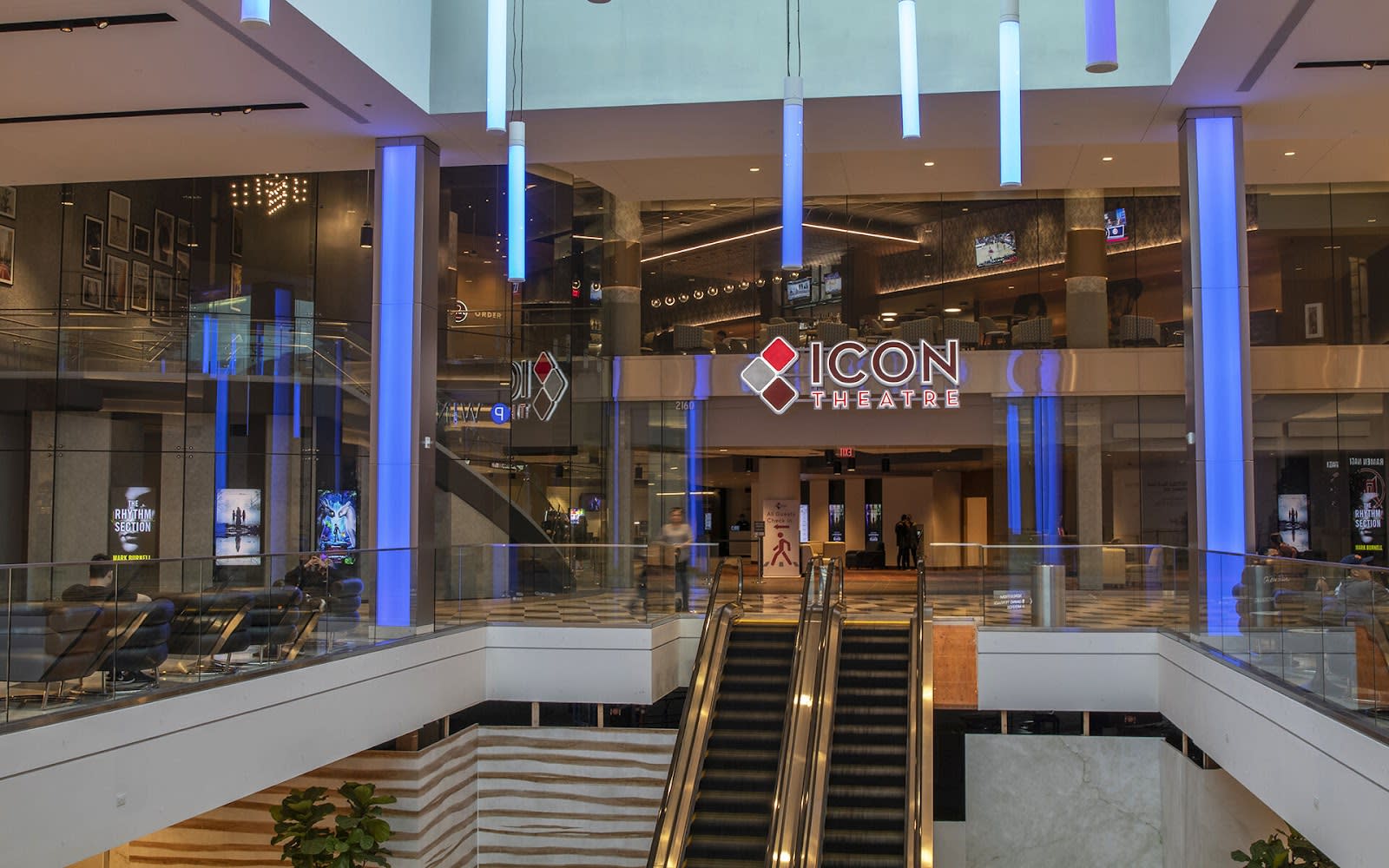 Credit: ShowPlace ICON Theaters at Valley Fair
After your incredible dinner, head across the street to Westfield Valley Fair, which houses over 250 high-end stores. Spend your Valentine's Day evening catching one of the latest movies at ShowPlace ICON Theaters! This theater features ten wall-to-wall screens, and you can even upgrade your standard seats to a VIP package. The movie will be shown with 4k laser projections, Dolby ATMOS immersive sound, and heated reclining loveseats.
4. An Indulgent Evening in Palo Alto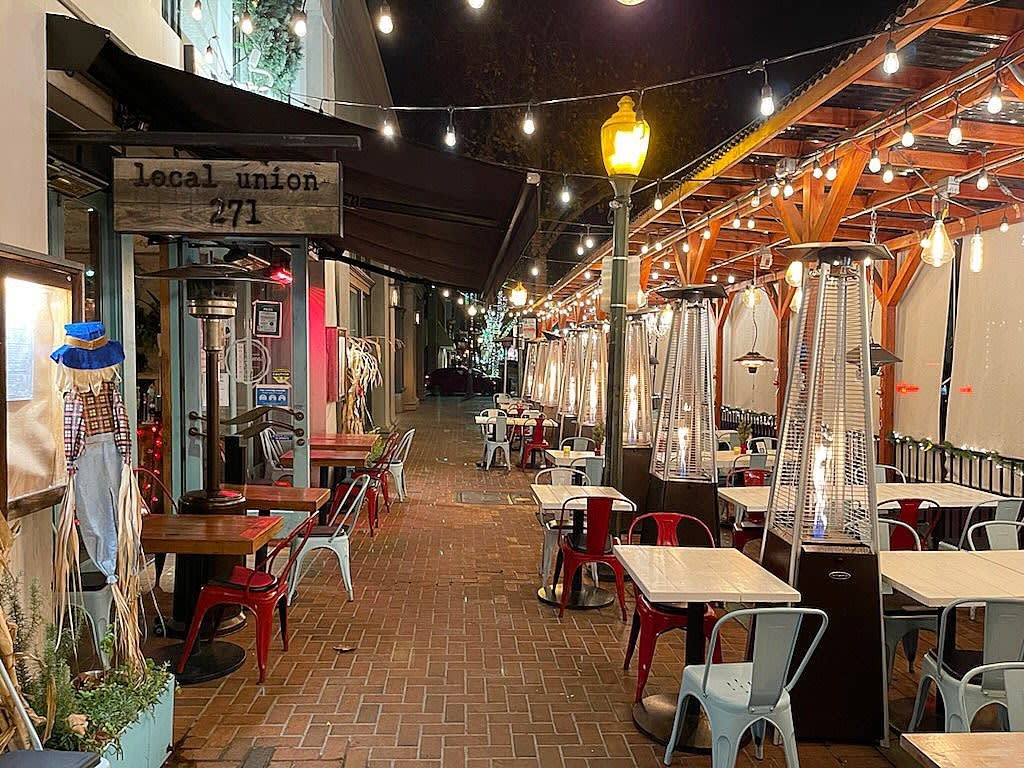 Credit: Local Union 271
The beauty of holidays, especially romantic holidays, is the enhanced feeling of connection. Honor your relationship and spend some quality time together over dinner at the family-owned Local Union 271, a Palo Alto favorite. The name pays tribute to the union of farmers, artisans, and craftsmen who partner with the restaurant, working hard to deliver an exquisite dining experience. Whether you order the citrus brined pork shoulder or the Ahi-Poke style taco platter, each and every ingredient can be tied back to its origins.
After dinner, head over to University Avenue for dessert at Salt & Straw. This popular and trendy ice cream shop specializes in handmade ice creams; over the years, the Salt & Straw team has created over a thousand flavors! While all the classic favorites like vanilla and chocolate chip cookie dough are here, you and your date can get adventurous with Honey Lavender, Arbequina Olive Oil, Marionberry Coconut Sherbet, and Pear & Blue Cheese!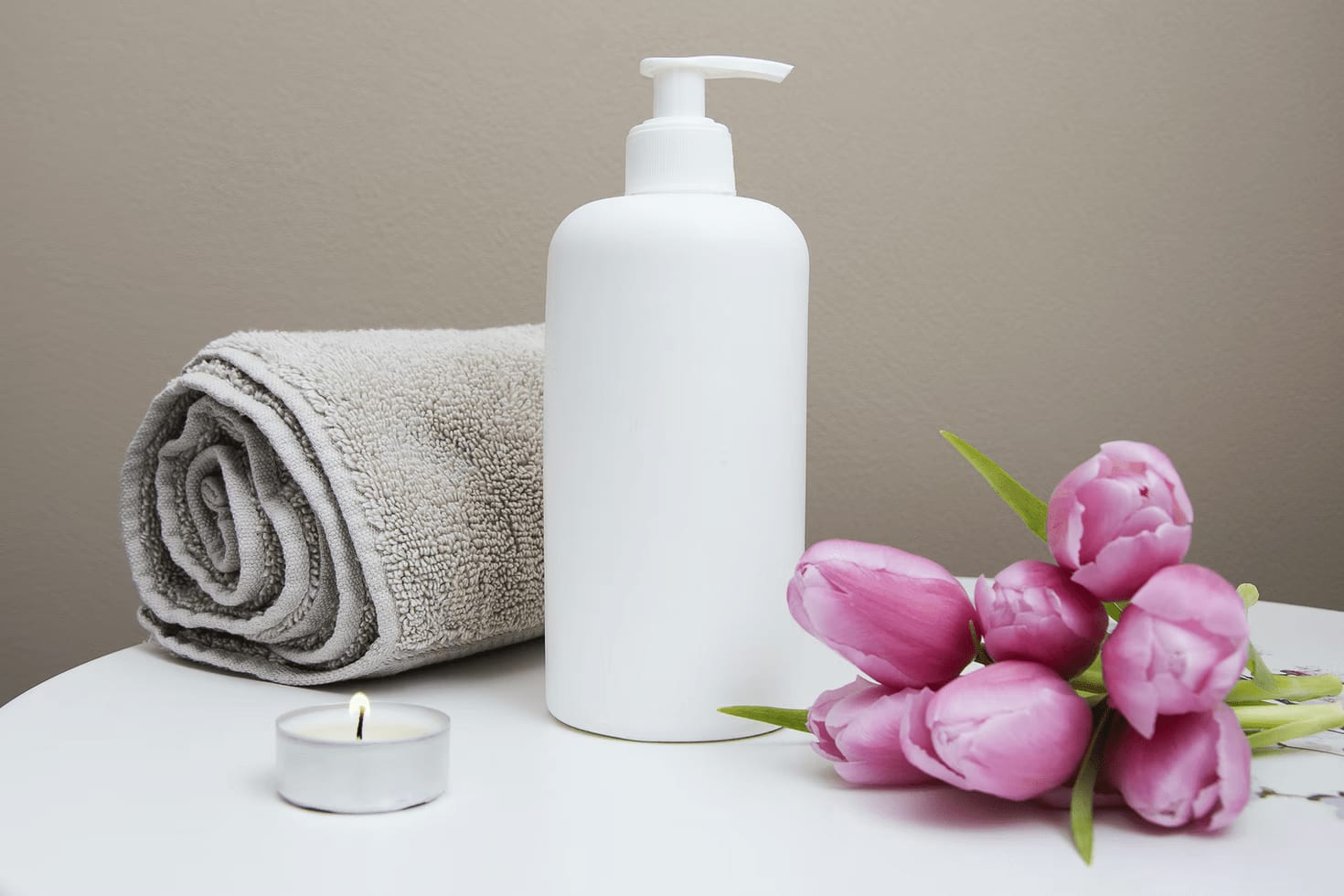 End your evening with a luxurious and relaxing experience at Watercourse Way Spa, the perfect place to wind down after an exciting day. Kick back in a private hot tub room, enjoying the sauna or cold plunge; you can even opt for a couple's massage featuring a warm stone neck massage and moist towel foot and face wraps. Watercourse's Champagne Chocolate is the ideal Valentine's Day package, complete with a body scrub and wrap, facial, massage, and a full-body cleansing. Relax side by side in the tranquil environment and relish being in each other's presence. Advance reservations are strongly recommended to ensure you receive the package you desire.
Your Valentine's Day will be incredibly special, regardless of which date idea, you choose to pursue. At the end of the night, come home to the Bay Area house of your dreams! Real estate agent Laura Parker has the knowledge and experience to find you the best of the best homes for sale in Menlo Park or Redwood City. Whether you're buying a new home or selling your current one to upgrade with your partner, Laura will meet your every need.